The company is an authorized distributors for reputed brands in the field of Industrial bearings, namely; NSK –Japan and MPZ-Belarus. We are importing various qualities of bearings for use of industries like Coal, Steel, Railways, Oil Sector, Power Plants, and various other heavy & medium scale industries. We are stocking and making available the entire range of products manufactured by the above companies and used in the above sectors.
JSC "Minsk Bearing Plant" is among the largest manufactures of rolling bearings, is known in the world market more than 50 years. During 2002 the enterprise made major progress and launched the mass production of SRB with the modified inner design (series 22000AC & 23000AC). Modified SRB are suitable for accomodation increased operating loads, have less wear, fully meet the customer requirements for reliability and service life. The bearings are intended to use in units with extra vibration, high rotational speed and under impact loads.
Established On May 20, 1948 Minsk Bearing Plant produced its first bearing on August 13, 1951. In the year 1975 Minsk bearing plant was the first in the world to apply MPZ brand bearings in the equipment for superdepth drill. In November 1994 the large bearing 22380MBW33 was introduced and finally the plant was reorganized and became JSC "Minsk Bearing Plant" in December 1999
JSC "Minsk Bearing Plant" applies in the bearing production process the latest developments of science and technique.
MPZ have introduced such progressive methods as pressure, hot and cold punching, rolling, method of powder metallurgy while producing bearing components. The application of special high precision equipment allows solving the quality problem
The engineering supply includes one of the most advanced systems of solid-state simulation, CAD/CAM-system Pro/Engineer of PTC (Parametric Technology Corporation). The system allows to solve many questions of automation of design, that has allowed to reduce terms of mastering of production of new items and technological equipment, to increase quality and efficiency of design operations, to settle the matters of computer-aided manufacturing.
The engineering supply has a possibility of organization of complete design of the projects - from designing an item or technological equipment till creation of software for machines with numerical control.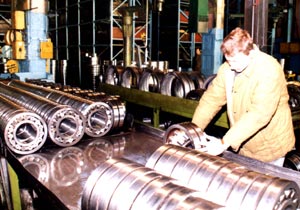 MPZ bearings are used in all fields of industry: production of metallurgical and mining equipment, woodworking and paper production, agricultural machine industry, oil-extracting and fuel and energy, production of electric motors and home appliances.
Types and constructive varieties of bearings: